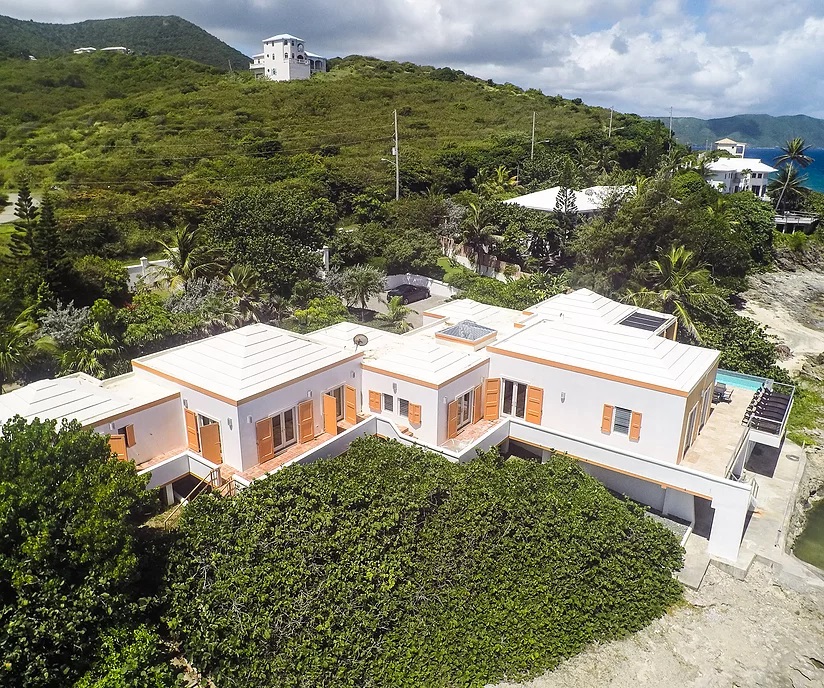 Lose Yourself in the Serenity and Richness
of St. Croix Island Life
Whisk your loved ones away to Sea View Play and enjoy endless sunshine and festivities. Our location is perfectly situated on a gorgeous, naturally-rich landscape experiencing amazing sunrises and sunsets from our deck.
At each side of the primary house is a master bedroom suite, each with its own private shower. Three extra bedrooms with breathtaking seaside views and two separate bathrooms are arranged mid-house. Each master suite has its own complete kitchen.
At the center of the villa is the 60' x 30' great room, which is the ideal setting for weddings, family gatherings, or corporate retreats.
A large deck with a pool is found directly off of the Great Room. The oceanfront deck has a pergola to shield you from the sun, a bar for you to unwind, and an outside barbecue to make awesome lunches, snacks, and dinners under the stars. For the individuals who appreciate cooking, the outside kitchen is finished with plenty of counter space, an open-air drop-in grill, sink, and cooler.
Sea View Play has plenty of space for your group with its 6 bedrooms and 5 baths. The main house has 2 kings, 2 queens, and a set of twin beds that can be combined to create a king. In addition to this, the home has 5 bathrooms. The sixth bedroom is located in the cottage as well as a sofa sleeper.
In addition to the main house, there is a separate private cottage featuring a large master bedroom with a king bed, a private bath (tub and a shower), and a living room. The large tiled deck is equipped with a stainless Steele grill and tables for relaxing. There is also a fully equipped laundry room for your use and convenience.
Located off of the deck of the cottage, the firepit is one of the more recent additions to the property and is a great place for guests to gather and relax as night approaches.
Enjoy the benefits of our 45' by 40' tide pool that always has fresh, changing water all thanks to the waves breaking right outside the pool. Little, exotic fish also get swept in from the tide. Kids particularly love to swim and snorkel in the pool, delighted by colorful, harmless fish that swim around.
We work with seasoned event organizers to create truly phenomenal celebrations. Our professionals can put together everything from intimate gatherings to the most elaborate custom weddings. We work with seasoned wedding organizers to create truly phenomenal celebrations. They have decades of experience to make your dream wedding a reality.
Adore Spectacular Sunrises, Sunsets, & Rainbows
Each room in this 6,000 square foot house faces the ocean. The house also points toward the north and has 180-degree views, so you can always have a full view of the sunrise or sunset.
Recommended Tourist Destinations
We're only a ½ mile east and merely minutes away from Cane Bay, the world-celebrated shoreline dotted with gorgeous palms and easygoing seaside cafés. We highly recommend you visit Cane Bay Beach and Cane Bay Wall, natural marvels beloved by swimmers and divers from all over the world.
Cane Bay
Point Udall
Sail to Buck Island
Sandy Point Beach
Annaly tide pools
Bioluminescent Bay
Snorkeling & Diving
Ziplining
Buccaneer Golf Course
Carambola Golf Course
Other Photos and Videos Gallery